We strongly suggest that you think in advance about how you're going to eat while you're at the convention. As discussed in the 2014 feedback report, if you haven't thought about this it can have a significant impact on the quality (and cost) of your convention experience. It can be useful to make a food plan with your companions: make sure you set aside time to eat, and consider bringing / carrying snacks during the convention, too.
Radisson
At the Radisson we have a number of food options. These include:
Lobby Cafe: offering various quick food options including sandwiches (£3.50), baked potatoes (£5) and canned drinks (£1.50)
Steak and Lobster (formerly Trunk Restaurant): Offering a selection of convention meals (menu) for around £20.
Annayu Indian Restaurant: Open for dinner (menu) 18.30 to 22.00 (and 12:00 to 15:00 for Nine Worlds lunch options -- see below)
Convention Bar (outside Commonwealth): offers drinks at 20% off to convention badge holders
Room Service: The hotel will deliver room service anywhere 24 hours a day. Perfect for late night snacking.
Bijou Bar: offers drinks at 20% off to convention badge holders, does snacks and light meals (menu) as well as several Nine Worlds menu items, 10:30am to 1:00am
NIne Worlds menu at the Bijou Bar:
Spinach and ricotta tortellini, sundried tomato emulsion (v) -- GBP 13.00
Lamb, pecorino and oregano meatballs, spaghetti, wilted wine tomatoes -- GBP 14.00
Beef burger -- GBP 12.50
Italian style club sandwich -- GBP 12.00
Margarita pizza -- GBP 12.00
Italian cured meat and salami pizza -- GBP 12.00
Stirfry vegetables with tofu (vegan) -- GBP 12.50
Mushrooms Risotto (this dish can be made for vegans) -- GBP 12.50
Stuffed peppers with couscous and tomato sauce (this dish can be made for vegans) -- GBP 12.50
Lunch
Annayu Indian Restaurant will be open from 12 – 3pm each day and providing a special lunch selection:
Jacket Potato with 1 filling, Salad and Fries at £8.50
Margarita pizza (Tomato, oregano and mozzarella) (v) at £12.00
Italian cured meat and salami pizza at £12.00
Sandwich at £4.50
Late Night Snacks
The Bijou Bar will be serving food and snacks until midnight, and after that room service will deliver to anywhere in the hotel 24 hours a day. Also, the McDonalds next to the Radisson is open 24 hours a day.
Outside options
There are quite a few food options in the area, including some reasonably priced options for eating out. We have previously gathered information about accessibility of the listed venues in our access section, but recommend phoning places first if you need to ask specific questions.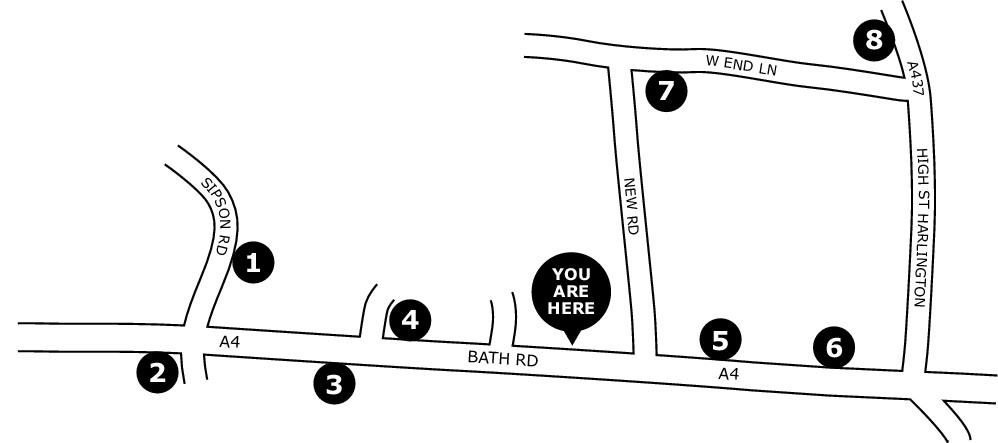 1. a) Il Basilico – Italian (website)(with some vegan options). Open 5:30pm - 10:00pm
b) also on this corner are two shops that sell snacks and sandwiches.
2. Three Magpies – Pub with pub food (website). Open 11:00am - 9:30pm
3. Renaissance:
a) Market Garden – European. Open for breakfast and dinner
b) Starbucks – Open breakfast and lunch (maybe until 7:30pm)
4. McDonalds – Open 24 hours
5. The Marriott has:
a) Tuscany Ristorante – Italian. Open 6:00 pm to 10:30 pm
b) Allie's American Grille & Steakhouse – Open breakfast 6:00am - 10:30am; lunch 12:00pm - 2:30pm; dinner 5:30pm - 10:30pm
c) Starbucks – Open breakfast and lunch
6. The Sheraton has:
a) Madhu's Heathrow – Indian/Kenyan. Open 6:00pm to 11:30pm
b) Starbucks – Open 7:00am to 9:00pm
c) American-themed Sports Bar & Grill – Open 12:00pm to 12:00am
7. Pheasant Inn (website)– Open 12 noon to 10:30pm
8. Harlington Tandoori – Indian (website). Open lunch 12:00pm - 2:30pm; dinner 5:30pm - 11:30pm. They will even come pick up groups for 4 or more from any hotel. Phone 020 8754 1414 or 020 8754 7711