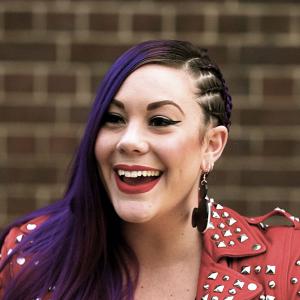 Author, journalist, TV presenter, podcaster
Maria Lewis got her start covering police rounds in a newsroom as a teenager and has been working as a professional journalist for the past 10 years. Making the switch from writing about murders to movie stars was not a difficult decision. A former reporter at The Daily Telegraph, she also wrote about all things film and entertainment related as the Showbusiness Reporter for The Daily Mail. Her work has appeared in the New York Post, Empire Magazine, WHO Weekly, Huffington Post, The Sunday Telegraph, Spook Magazine, Junkee, Daily Life, Penthouse, RendezView, CollegeHumor, News.com.au and SBS, to name but a few.
As a pop culture commentator she has appeared on SBS, ABC, Nine and many more, discussing everything from film feminism to queer representation on television. She is the producer and host of the Eff Yeah Film & Feminism podcast, which looks at feminism within the pop culture sphere. She contributed a story to Harper Collins' anthology Hot Stuff: Surfing Love which was released in December, 2015.
Based in Sydney, she currently works on news program The Feed which airs on SBS 2 weeknights at 7.30pm. Maria can often be found spending much money on comics, watching horror movies at stupid hours, inhaling books on modern feminist theory (aka anything Roxane Gay touches) and holding on to the one belief she has had since she was five: that unicorns exist. She is most likely Idris Elba's future wife. Most likely.
Who's Afraid? is her debut novel and was released in Australia in January, 2016 through Hachette Australia and worldwide in July, 2016 from Piatkus/Little Brown Books. The sequel is also scheduled to hit bookshelves on January 17, 2017.